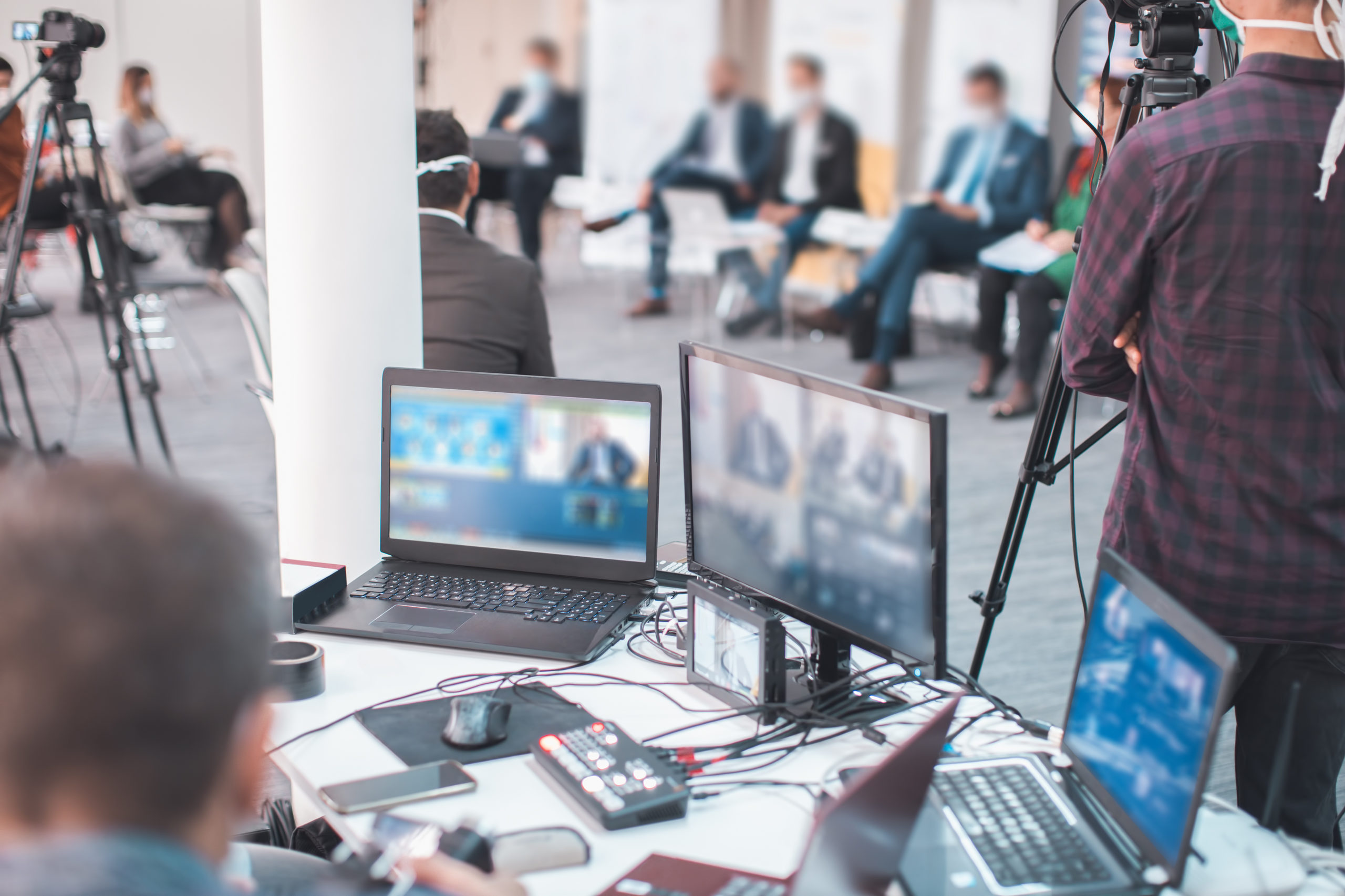 Digital Event
Live Stream
The Internet offers almost unlimited opportunities to connect.
An increasingly important role is played by Live-Stream.
Broadcast your event with us on the Internet, regardless of its size.
No matter if meetings, conferences, small concerts or a big event.
Allow others to follow your stream on Youtube, Twitch, Zoom or your own website.
Engage your audience from anywhere and make virtual participation in your event possible.
At SLS, we offer everything from small streaming kits to a complete solution for your event to ensure an uninterrupted streaming experience.
Virtual Event
Looking to host a completely virtual event?
We offer several ways to allow your attendees to participate from home or the office.
For example, you can inform and interact with people in the form of webcasts or virtual conferences.
Hybrid Events
You want to enable participants in your livestream to interact with you or other participants in real time and in high definition.
Then a Hybrid Event is the right thing for you. Hold your event as usual and let visitors participate both on-site and simultaneously online. 
A distinction can be made between Internal Hybrid Events and External Hybrid Events.
Internal Hybrid Events
Nowadays, these are used to communicate within a company that spans multiple countries or continents.
Relay messages to the entire company without employees having to travel for time and money.
You can use Internal Hybrid Events for employee training, education, team building, or even recruiting.  
External Hybrid Events
Virtual events, which are aimed at the general public, are increasingly in demand.
To provide participants with a comparable experience, a higher level of quality and interaction is required.
Talk rounds or chat functions are used, for example, to enable participants to interact with each other.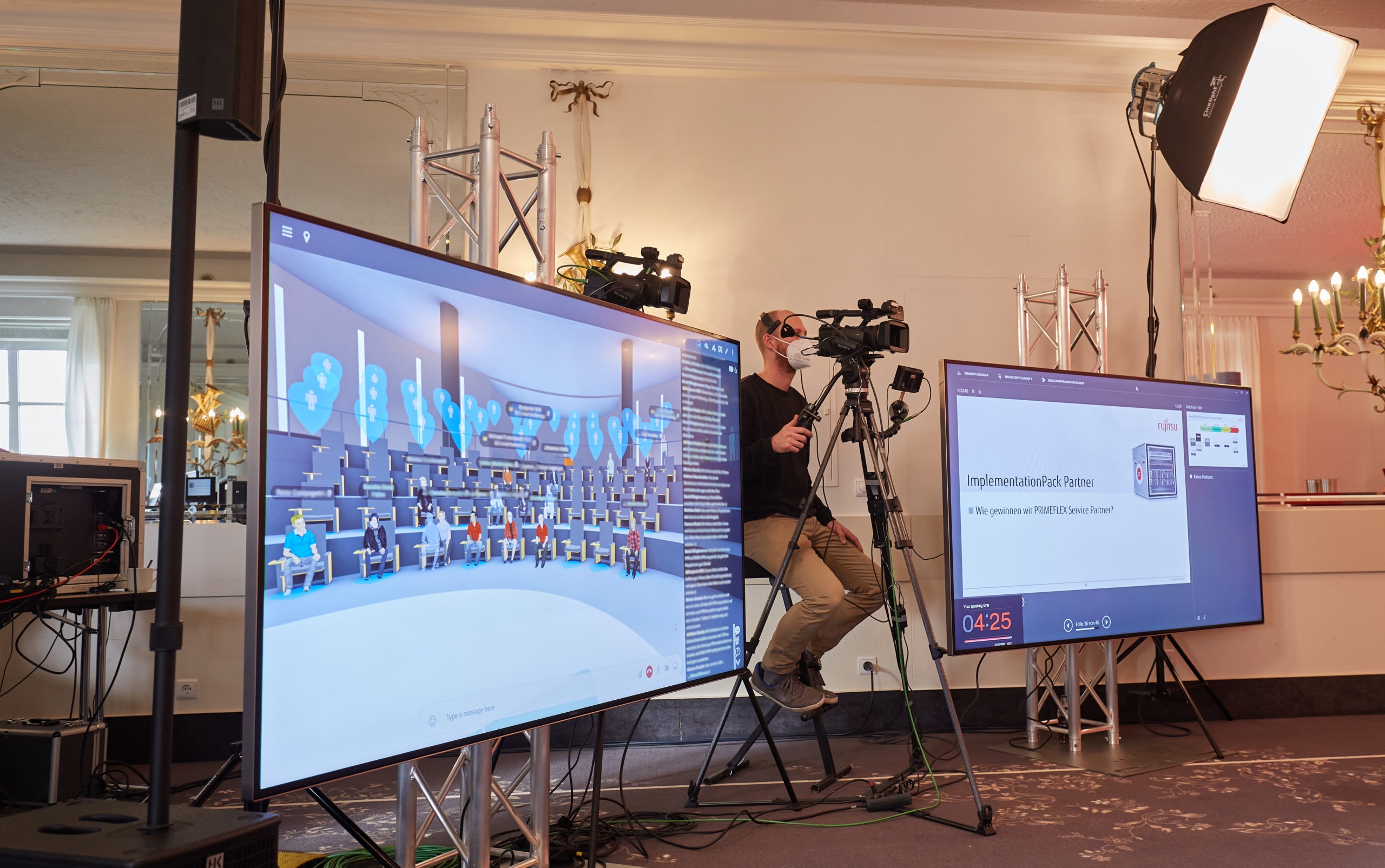 Live Stream
Broadcast your event with us on the Internet, regardless of its size.
Virtual Event
We offer several ways to allow your attendees to participate from home or the office.
Hybrid Veranstaltung
Sie möchten es den Teilnehmern Ihres Livestreams ermöglichen Interaktiv mit Ihnen oder anderen Teilnehmern in Echtzeit und in High Definition zu interagieren. Dann ist ein Hybrid Event das richtige für Sie.
Virtual Platforms
To create a virtual event, platforms are needed in which a virtual space can be designed. Here we can draw on a wide range of providers. Our employees are specially trained in the use of these virtual platforms.
Event Platform
Create your event in a modular style, set it up according to your wishes and ideas. From simple unidirectional streaming to your trade show events with booths. Design your virtual get-together according to your ideas
Interactive 3D World
Create your virtual world in which participants can move and interact with each other using an individual avatar. The control is intuitive and creates a very realistic event thanks to the video game characteristics. Make it possible to make classical meetings, conferences, fairs or trainings virtually accessible for your visitors.
Please feel free to contact us without obligation and let us show you our digital world.